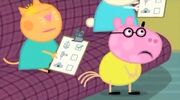 Pedro is an artistic and sensetive pony and is the clumsiest out of the whole school, he is concerned about turtles escaping and he is obsessed about super people. He likes to call Peppa "Mrs. PC Queen". He sometimes is late for Playgroup. He is a Pony
Looks
Pedro wears a yellow shirt and glasses. He has tan skin.
Trivia
Pedro is originaly from Spain.
Peppa has a crush on him.
His mom gave birth to him sitting down.
He is in Peppa's gang
He is friends with Buster Baxter as seen in Trip to Elwood City.
He isn't smart.