George Pig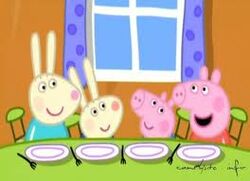 George sitting with Richard ( his friend), his sister Peppa, and Peppa's friend Rebecca at the dining table.
George Pig is Peppa's little brother and Lily and Alice Pig's uncle. He is 9 years old and loves to play with his big sister, Peppa, even when she's being bossy. George's favourite thing is his Flite Mites set. He carries it everywhere with him. George doesn't talk unless he is asked something and if everyone else is saying something. He also says "grrrrrr" and "dinosaur,' He is voiced by Oliver and Alice May.  His friends are Richard Rabbit, Edmond Elephant, Zoozoo Zebra, and Zaza Zebra.
Bio
According to the episode "The Olden Days " , George was born in 1990, when Peppa was only approximately 1 years . Maybe she did not realize her brother until he became a bigger girl. The only thing that had George in the prenatal phase was eating and laughing . His grandparents , as shown in this episode, gave him a great toy that we see today in the series and is called " Mr. Dinosaur " .  George may have eccentric behavior , as being the youngest in the family . It is very elated with her ​​older sister Peppa George is annoyed by his big sister. he cries the most out of the toddlers in the series and the longest.
Looks
George wears a blue shirt and has pink skin and a small, curly, pink tail.
Trivia
His first word was Dinosaur 
He sometimes makes stuff into dinosaurs,
Out of the toddlers he cries the most.
He rarley speak in senteces and just say simple words like "dinosuar", "no", "why?" etc.
He's a great ice skater. 
Due to his age, he can missprounced word like "presto, spaghetii, etc.